By Misty Sneddon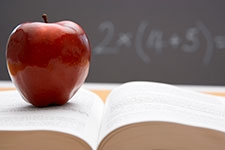 When thinking of teachers, one teacher in particular should come to the forefront of all of our minds. Jesus was the ultimate Teacher. If you think you have what it takes to be a good teacher, think about Jesus' personality. Teaching is something we all do: whether you have a younger brother or sister, you're a babysitter, you have a part-time job and a new employee needs your help, we all have taught someone something. The question is, do you find you enjoy the above teaching scenarios? If so, maybe teaching is a good career choice for you.
Characteristics of a great teacher:
patient
adaptable
humble
compassionate
enthusiastic
engaging
accountable
trustworthy
joyful
kind
caring
dedicated
organized
creative
generous
resourceful
forgiving
A career in teaching is an excellent choice, as teachers are always needed. Many teachers start teaching upon completing a Bachelor's degree. Eventually, some teachers choose to get a Master's and sometimes a Doctorate depending upon career goals. At the college level, a Master's is necessary to teach part-time and a Doctorate for full-time.
Many students spend the first two years of college education fulfilling general studies requirements classes such as composition, math, public speaking, human development, childhood education, sociology, science and art appreciation. The next step is to become accepted into a teaching program. Prerequisites include general studies as well as experience working with kids. Volunteering at elementary, middle and high schools to show a certain amount of hours working with kids can help speed along one's acceptance into the teaching program. Depending upon the level of education one wants to teach, the following classes may be necessary: integrating technology into teaching, teaching math, teaching science, teaching social studies, learner development, foundations of language, learning strategies, curriculum, instruction and literacy assessments, and health. Remember that elementary school teachers teach all subjects while middle school and high school teachers focus on specific topics.
After all college courses are passed, student teaching is usually the next step. This is where you work under an established teacher and teach in a supervised classroom for at least eight weeks and some programs require even more time. Also, background checks and fingerprinting is usually necessary in order to work with children. After all of these requirements are met, one must pass a sequence of tests to earn a license. This license must be renewed every five years and teachers must have additional higher education credits for that renewal. This is often why teachers decide to get a Master's.
Common teaching careers:
Elementary School Teacher
Middle School Teacher
High School Teacher
Coach
Special Needs Teacher
Media Specialists (Librarian)
Instructional Coordinator
Health Educator
Adult Literacy Teacher
GED Teacher
Preschool Teacher
Recruiter
Self-enrichment Teacher
School Principal
Social Worker
Public Relations Manager
Professor
School and District Administrators
If you are considering a career in teaching, it is best to first discover if you like to be around kids. Volunteering with after-school programs or working part time as a summer camp counselor will provide excellent hands-on experience.