By Misty Sneddon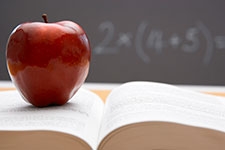 An English degree can open surprising doors for someone with the right amount of drive. You aren't limited to simply becoming a writer or teacher.
What does it take to get a degree in English? A solid background in English and literature courses is necessary. It is also important that you have an aptitude for writing, as an English major spends hours and hours reading literature and writing papers. A four-year degree often includes classes like Critical Reading and Writing; Practices of Literary Study; Shakespeare, Milton, and Chaucer; Linguistics; Renaissance Drama; Classical Backgrounds in English Literature; Old and Middle English Literature; African American Literature; Irish Writing; Literary Modernism; American Poetry; Southern Women Writers; Irish Prose from Joyce to Doyle; and Canadian Literature. Oftentimes, students will major in English and have a concentration to deepen an area of study. Concentrations can include creative writing, literary and cultural studies, rhetoric and writing, and professional and media writing.
Obtaining a degree in English provides limitless opportunities in the work force because employers know that English majors are excellent communicators, writers, analytical thinkers, researchers, and debaters. These skills can be easily applied to almost any career out there. With that in mind, the following list contains examples of careers one can pursue after graduating.
Primary School Teacher
Secondary School Teacher
Private School Teacher
School Administrator
Tutor
English as a Second Language Teacher
Editorial Assistant
Copy Editor
Production Assistant (Publishing)
Acquisitions Assistant (Publishing)
Journalist
Science Writer
Technical Writer
Creative/Fiction Writer
Grant Writer
Speech Writer
Freelance Writer
Corporate Blogger
Marketing Researcher
Librarian
Archivist
Curator
Metadata Manager
Search Engine Optimizer
Social Media Manager
Search Engine Marketer
Information Broker
Brand Strategist
Cataloguer
Website Developer
Congressional Aid
Lobbyist
Many of these careers may require additional education. Students with an English degree often minor in something completely separate such as history, media, marketing, education, or business.