By Misty Sneddon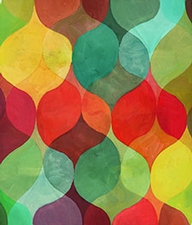 Art comes in so many different forms: painting, drawing, sculpting, crocheting, cooking, and even tattooing. It's visually stimulating and is an outlet that can create emotions in oneself and others.
If you are curious about pursuing a degree in art, you have probably experienced many different media by now. You are most likely aware of your artistic strengths as well as media you don't care for as much. A successful art major will truly love art, is creative, and able to accept constructive criticism. Considering a degree in this field of study is a big step. While good grades in academic classes usually give students more flexibility in considering future options, art is one area where things aren't always black and white, particularly when it comes to employment. What an artist needs to focus on is perfecting a portfolio. The more appealing it is to others, the more likely the artist is to get a job or commission. However, art is not an easy major. Like all creative avenues, it requires a lot of time and effort. In fact, an art major can expect to spend just as much time, if not more, studying and creating than students studying more conventional majors.
Courses art students can expect to take include drawing, painting, art history, digital graphics, ceramics, sculpture, multi-media, and watercolor. Eventually, though, the classes one registers for in junior and senior year will depend upon the medium chosen. Not only will they gain knowledge of art, they will graduate with other critical
skills needed for career success, skills such as
time management, critical thinking, communication, writing, organization and entrepreneurial. Most students earn a Bachelor of Arts degree, but often students continue and obtain a Master's. In this field, many students find a double major suits them well. An example would be a fine arts major as well as majoring in history or even art history. This makes them more likely to find a career, such as a museum curator.
Types of Undergraduate Degrees in Art:
- Art Education
- Marketing
- Graphic Art
- Game Art
- Commercial Photography
- Fashion Design
- Illustration
- Animation
What does one do with a degree in art? Contrary to popular belief, not all artists are angst-ridden and starving. Many artists are freelance, meaning they work for themselves. Usually a company or person will contract them for a specific project. Once they are finished, they are off looking for another "job." Such artists promote their own work through various ways, such as using Facebook, Twitter, and LinkedIn accounts. Social networks allow excellent opportunities for artists to connect with potential contractors. Many have their own websites where they showcase their work. The reality of working as a freelancer means, however, that artist often takes secondary jobs to supplement their income. Those who do work in the creative industry tend to have higher levels of fulfillment with their careers.
Upon graduating, or even while still in school, many students find internships. Having firsthand experience helps get one's foot in the door for a solid career. Sometimes internships will be applied to college credits in order to graduate, and other times they are paid. Unpaid internships are also available and provide excellent job training. There are many careers for those with a degree in art.
The following list provides examples of what one can do with such a degree:
freelance artist
art critic/writer
teacher
video artist
event planner
website designer
storybook illustrator
curator
fine art sales
art gallery owner
art instructor
wardrobe staff
ad designer
graphic artist
cartoonist