By Misty Sneddon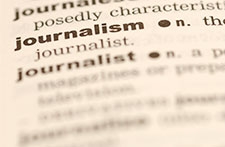 Good journalists ooze storytelling, fact reporting, and writing and reading from their bones. However, becoming a professionally paid journalist is not an easy feat these days due to staff cutbacks throughout the publication industry. A person with the right drive and an all-consuming passion to report, must be willing to create a niche or freelance, and that means persevering through times of lean income. A good journalist is organized and engaging; talking with people and consistently reporting the facts is only a small part of what they do. They do it all, coming up with their own ideas to investigate, report their findings, and edit all of their own content while simultaneously promoting their work in hopes that their idea and findings will actually sell. There is much effort involved without a guarantee of financial compensation. Successful journalists have motivated personalities: independence, confidence, and attention to detail are qualities that cannot be obtained in the classroom.
Journalists either work in broadcasting (think television and radio) or in physical writing, which appears in hard and digital print. To maximize options, it is always best to take a few elective classes that are on the other side of one's preferred Journalism concentration. If a student wants to focus on becoming a writing journalist, it would be wise to explore a few classes on the television and radio side of this degree.
A Bachelor's degree in Journalism requires students to take classes like reporting, writing and editing, visual communication, research techniques, newspaper writing, magazine reporting, broadcast news, depth reporting and editing, advertising as communication, information graphics, public relations campaigns, news gathering and the law, media management, global journalism issues and research, problems in advertising, and public opinion.
Double majoring in something different from Journalism will also provide a safety net once a student graduates. The more well-rounded a student can become, the more likely the student will find a job. Because Journalism is a competitive field, it is imperative that one enters the arena armed with as much background as possible. Therefore, a four-year degree will give a newly graduated student the edge needed to get a job compared to someone with only a two-year degree or those without higher education. A recent graduate can expect to make around $20,000 a year, while professional journalists, who have years of experience, make an average of $53,000 annually.
Here is a list of career options for those with a Journalism degree:
• Reporter
• Photo Journalist
• Broadcast Journalist
• Investigative Journalist
• Editorial Assistant
• Sports Journalist
• Newspaper Reporter
• Press Sub-editor
• Journalism Professor
• Magazine Writer
• Copywriter
• Market Researcher
• Content Producer
• Book Editor
• Multimedia Specialist
• Grant Writer
• Public Relations Specialist
• Sports Information Director
• Marketing Executive
• Freelance News Service Writer
• Technical Writer