By Misty Sneddon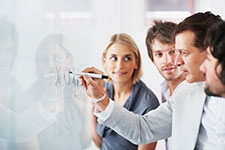 High standards of integrity and ethics are crucial in order to be successful at marketing. Pushing the envelope and striving to be the very best in the field is what separates good marketing agents from mediocre ones. Also, a consistent positive outlook, no matter how bleak the situation may look, as well as unsurpassed energy to keep those creative juices flowing with ideas, is key in this line of work. Often great marketers will have an unsurpassed belief in the company they work for, knowing that skipping short cuts and attending to even the smallest of issues will consistently create a winning outcome for the company. Agents holding these beliefs will understand that the battles may not always be won, but most certainly the war will be. Hence, perseverance, consistency, and dependability are very important characteristics for those pursuing a career in Marketing.
Colleges vary in regard to whether one can earn a general Marketing degree or whether specialization is possible, such as sports and tourism marketing, hospitality marketing, finance marketing, nonprofit marketing. This is when a double major would come into play, particularly if the student is more interested in a niche Marketing career. While specialization is good, it's also important to keep a well-rounded broad education background. This way, one has more career opportunities upon graduating. Classes a Marketing major can expect to take are business law, macroeconomics, management strategy, principals of marketing, business statistics, consumer behavior, international Marketing, cost analysis, social and ethical issues in business, event management, destination marketing, introduction to non-profit agencies, and bank and finance.
Many students pursuing a Bachelor's degree in Marketing often find postgraduate work via interning with marketing companies. While some college programs require internships to graduate, others may not. Either way, an internship is an excellent way to get a foot in the Marketing career door. Depending upon one's experience, the following list provides career options for those with a degree in Marketing:
• Marketing Intern
• Marketing Coordinator
• Advertising Agent
• Public Relations Agent
• Sales Manager
• Marketing Manager
• Fashion Marketer
• Marketing Specialist
• Market Research Analyst
• Sports Agent
• iTunes Podcast Promoter
• Director of Marketing
• Account Manager
• Meeting/Facilities Coordinator
• Event Planner
• Advertising Writer
• Market Research Director
• Social Media Marketing Agent
• Salesperson
Careers in Marketing provide salaries ranging from $34,000 to $110,000 a year, with the lower range applying to those who have recently graduated and are new to the Marketing world. With time and experience, many people move upwards to stronger and higher paying careers.