By Pastor Mark Fisher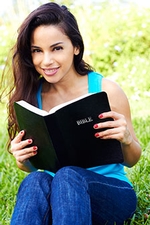 God made it clear; it was time to move on! I was a 39 year old supervisory engineering technician of 20 years, happily married with 4 children and living near the shores of beautiful Lake Superior in Northern Minnesota. My wife and I were greatly involved in our church's ministries; mainly evangelism outreach and church planting and everything that accompanies those ministries. Wasn't that enough ministry? God made it obvious, I was to set my secular work aside and go to Bible School, preparing me for fulltime ministry.

It is now twelve years, three schools and three Bible degrees later. As a Senior Pastor, I often meet with high school graduates who are looking to attend a Bible College. I simply ask them the same questions I had asked myself. First, what is the Lord doing in my life? Do I feel called to a pastorate, a mission field, or do I desire a biblical education as a foundation for life? Narrowing your focus narrows your choice of schools. Bible Schools are like people, they have their strengths and weaknesses. The first two schools I attended had a strong theological and pastoral emphasis; the third had a stronger historical and philosophical emphasis. Each school met the needs that I had through their strengths.

Second, does the school respect me as an individual? In contrast to visiting a school during their new student promotional week, visit the college during a typical week which will give you a realistic impression of the school. My first two schools I had visited, I attended classes, sought out teachers, faculty and other students, to get an understanding of the school at a grassroots level. Meeting people face to face is very important. And afterwards, ask yourself the question, "Did I feel connected to the school; did they seem to care about me as an individual?"

Third, if I am going into fulltime ministry such as a pastorate, does the school have a good internship program where I am accountable to carry out a hands-on ministry? The schools I attended worked with local churches and pastors to carry out this important aspect of leadership development. Finding a leader/mentor to aid in the development of your spiritual gifts is even better.

God's call into fulltime ministry is a joy that at times is accompanied with great difficulty. It is not a job; it is a spiritual ministry dependent on God's calling and enabling! It is important to find a school that not only educates you biblically, but one that cultivates you spiritually. Spiritually minded teachers and staff have played a vital role in my spiritual life as a pastor.

It is interesting looking back at my biblical education in regards to what a pastor deals with in today's world. My college education has had an effective role in my life. I often tell people, that Bible College has not necessarily shaped who I am, that is the Lord's job, but Bible College has certainly aided in this divine process.