By Misty Sneddon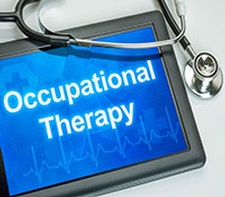 An occupational therapist rehabilitates people by helping them increase productivity and become independent. Often, the goal is to assist those with a permanent illness or disability, including mental and emotional disorders, by teaching them how to achieve day-to-day necessary life and recreational skills. Occupational therapists work in schools, rehabilitation centers, hospitals, nursing homes, assisted living communities, private practices, and in the private homes of their clientele.
Important characteristics an Occupational Therapy major will have or need to learn are diplomacy, creativity and sensitivity to others. They should be resourceful, communicate well, motivate others, work with diverse populations, and accept responsibility. It is also important to be inspired and social. This is a career path that suits people who are caring, kind and empathetic.
To become an occupational therapist, the first step is to graduate college from an accredited Occupational Therapy School. After graduation, one must take the National Board for Certification in Occupational Therapy. The newly graduated student must then apply for a state license. If a student chooses a two-year program and passes the boards, he or she has then earned the title of occupational therapy assistant. Some students will eventually continue education by obtaining a Bachelor's degree, as well as a Master's degree, pass the board and gain the licensed title of occupational therapist. Except for the state of Colorado, all students who want to become an occupational therapist must graduate with a Master's degree. Colorado's minimum requirement to become an occupational therapist is a four-year degree. Also, in Colorado, occupational therapy assistants do not need to register with the state. Most states require those holding a license in occupational therapy, either as an assistant or a therapist, to continue education in order to maintain a license. The amount of continued education varies by state.
To be successful on one's path of occupational therapy, gaining excellent grade point averages in pre-coursework, as well as getting as much hands-on training as possible is key. Volunteering in an occupational therapy environment is highly looked upon by graduate programs. Working first as an occupational therapy assistant, and thus gaining invaluable experience, will also strengthen one's chances of getting into a great Master's program.
The classes required in an Occupational Therapy program may include human anatomy and physiology, psychology, behavior and development of children, developmental tasks of adulthood, occupational therapy, neurology and neurology lab, statistics, human movement and environment, fieldwork, human occupation, administration and management of occupational therapy practice, enabling participation in community groups, oral communications, medical terminology, kinesiology and pathophysiology.
Potential careers for those with a degree in Occupational Therapy are:
• Occupational Therapist
• Pediatric Occupational Therapist
• School-Based Occupational Therapist
• Director of Rehabilitation
• Inaugural Program Director
• Chair of Occupational Therapy Department
• Travel Occupational Therapist
• Occupational Therapist Assistant
• Occupational Therapist Instructor
• Outpatient Occupational Therapist
• Inpatient Occupational Therapist
• Home Health Occupational Therapist
Career outlooks for those pursuing a degree in Occupational Therapy are quite good. A licensed Occupational Therapist makes an average annual salary of $86,000. A licensed Occupational Therapy Assistant will make an average annual salary of $53,000.