By Misty Sneddon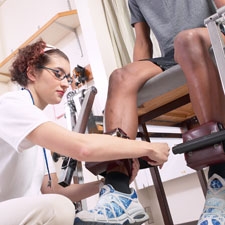 A physical therapist (PT) is a trained professional who helps rehabilitate people with physical development disabilities. Many people find they need temporary physical therapy to help improve an injury they've sustained. Usually, physical therapists create programs to help people regain range of motion they may not have thought possible to regain. Others patients utilize physical therapists to lessen movement disabilities, thus improving one's quality of life. Sometimes a physical therapist's main job is to help a person readjust to the realities of a permanent injury, helping someone to get used to the idea that a hope for full recovery may not be possible. The counseling aspect of a physical therapist's job requires a deep faith that God is working His will through an injury or handicap.
There are many ways in which one becomes a Physical Therapist. Starting with education, a physical therapist assistant usually studies at the college level, pursuing an Associate's (two-year) degree. After graduating from an accredited college, the student is required to pass a state exam. From here, the newly licensed Physical Therapy assistant is able to work under a licensed physical therapist at the entry level.
Becoming an actual physical therapist requires a Doctorate degree, passing multiple exams, and possibly continued education to maintain the license, depending upon state requirements. There are a few different schooling options students have when becoming a physical therapist. Most colleges require a student to first earn a Bachelor's (four-year) degree before entering a professional Physical Therapy program. However, some colleges have a 3 + 3 program that requires three years of specific general education followed by three years in the professional Physical Therapy Program. This would effectively eliminate one year of schooling. A third way to achieve a Physical Therapy degree is by being approved into a guaranteed freshman admissions program. This program recruits high school students directly into the professional Physical Therapy program, provided they complete specific pre-program courses with a minimum GPA. The route one chooses to pursue a Physical Therapy degree depends upon which program the accredited college offers.
Classes a Physical Therapy major can expect to take are similar to human anatomy and physiology, kinesiology, clinical reasoning, ethics and values, behavioral sciences, pharmacology, evidence-based practice, biomechanics, neuroscience, and cellular histology. Clinicals, where one gains hands-on experience, make up about 20% of a student's studies. The clinicals are usually done alongside classes in the program.
The average salary a physical therapist makes is $85,000 a year. Below is a list of work environments for those with a degree in Physical Therapy:
• Hospitals
• Schools
• Sports and Fitness Facilities
• Hospice
• Government
• Research Facilities
• Outpatient Clinics
• Home Healthcare
• Nursing Homes
• Assisted Living Centers
• Burn Units
• Physician's Office