By Pastor Mark Fisher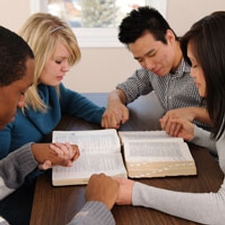 Bible College or Seminary can be one of the most memorable times in your life. But the big question always is, "Which Bible College should I attend?" Another question may be, "When should I attend?" For me, it was after getting married, having 4 children and 20 years of secular work behind me. And that happened 14 years ago. 13 of those 14 years I was privileged to attend 3 different Bible Schools in the process of completing my PhD. And each school had a role in shaping my education.
Now as a Senior Pastor, I often meet with high school graduates who are looking to attend a Bible College or a Christian College. There are 3 questions that I had asked myself about which school to attend.
First, what is the Lord calling me to do? Do I feel called to be in a pastorate, a mission field, or do I simply desire a biblical education as a foundation for my life? Narrowing your focus can narrow down your choice of schools.
Bible Schools are like us, they have their own personality and their own strengths and weaknesses. The first two schools I attended had a strong theological and pastoral emphasis; the third had a stronger historical and philosophical emphasis. Each school met the needs that I had through their strengths.
Second, does the school show concern for its individual students? In contrast to visiting a school during their new student promotional week, visit the college during a typical week which will give you a more realistic impression of the school. The first two schools I had visited, I attended classes, sought out teachers, faculty and other students, in order to get to know the school at a personal level.
Meeting people face to face is very important. And afterwards, ask yourself the question, "Did I feel connected; did they seem to care about me as an individual?"
Third, if I am going into full-time ministry such as a pastorate, does the school have a good internship program where I am accountable to carry out a hands-on ministry?
God's call into full-time ministry is a joy that at times is accompanied with great difficulty. It is not a job; it is a spiritual ministry dependent on God's calling and enabling! It is important to find a school that not only educates you biblically, but one that cultivates you spiritually. Spiritually minded teachers and staff have played a vital role in my spiritual development as a person and as a pastor.
My college education has had a tremendous affect on my life. I often tell people, Bible College has not necessarily shaped who I am, that is the Lord's job, but Bible College has certainly aided in this divine process.