By Misty Sneddon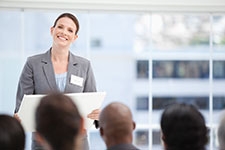 Those pursuing a degree in Speech will learn how to research and report accurately, enunciate clearly, think critically, read body language, write, listen and present well, and instruct others successfully. People who find fulfillment with this major are often outgoing, curious, effective, decisive, articulate, caring, engaging, and truthful.
Majoring in Speech provides a large and general knowledge base. This major is similar to obtaining a Liberal Arts degree. Classes a Speech student can expect to take are English composition and literature, principals of public speaking, public relations, quantitative research methods, family communication, theories of communication, linguistics, argumentation and debate, business and professional communication, negotiation and mediation, health communication, mass communications, communication law, interpersonal communication, small groups communication, rhetorical theory and criticism, and cultural communication.
Careers available to those with a degree in Speech are:
Speechwriter
Foreign Relations Officer
Lobbyist
Media Relations Director
Corporate Communications Director
Advertising and Promotions Manager
Public Relations Director
Campaign Director
Mediator
Legislative Assistant
Broadcasting Station Manager
Speech and Debate Coach
Educational Tester
Religious Leader
United States President
Health Care Communication Executive
Event Planner
Television Producer
Community Affairs Liaison
Disc Jockey
Marketing Manager
Reporter
Nonprofit Organization Administrator
Talk Show Host
Author
Film Editor
Copywriter
Stage Manager
Activities Director
Recreation Supervisor
Language Specialist
Employment Recruiter/Headhunter
Depending on what career you choose, salaries vary widely. For example, a speechwriter will make an average of $69,500 a year, while a speech and debate coach will make $34,000 a year. Other careers with upper-end salaries are healthcare communication executives, talk show hosts, and employment recruiters. People who choose to work part-time, in schools, or through freelance contracts earn salaries on the lower end of the scale.