By Misty Sneddon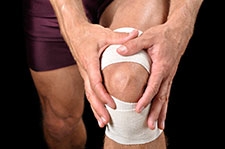 A degree in Sports Medicine focuses on helping athletes with performance through specialized workouts, rehabilitation, and training/performance safety. This degree revolves around physical fitness and kinesiology. A broad scope of knowledge is needed to perform the tasks in this line of work. For starters, a four-year, Bachelor's, degree is needed. Students take courses such as first aid and CPR, strength training, biology, chemistry, physical therapy, nutrition, rehabilitation, healthcare administration, kinesiology, stress management, human anatomy and physiology, exercise leadership, athletic motor behavior, sports psychology, and taping and bracing techniques.
A Sports Medicine major will be interested in health and fitness. These majors usually enjoy competitive sports and any sort of physical activity that promotes a healthy lifestyle. Many other important characteristics a Sports Medicine major will have or need to learn are diplomacy, sensitivity to others, and creativity. In addition a student should be resourceful, and excel at communication and motivation. Other necessary skills are critical thinking, listening and writing, negotiating, speaking well, time management, organization, perceptiveness, and persuasiveness. An outgoing personality is essential for professionals who work in sports medicine, as speaking with the athlete's coaches, physicians, and family members are a large part of the job.
A Bachelor's degree in Sports Medicine provides an excellent platform for further education in fields such as sports nutrition, biomechanics, cardiac rehabilitation, medicine, physical therapy and exercise physiology. However, one doesn't necessarily need graduate education to have a successful career. Some career options for those with a degree in Sports Medicine are as follows:
• Kinesiotherapist
• Dietitian
• Physical Therapy Assistant
• Sports Nutritionist
• Personal Trainer
• Employee Fitness Director
• Strength and Conditioning Coach
• Physical Education Teacher
• Exercise Physiologist
• Gym/Facilities Manager
• Ergonomics and Wellness Coordinator
• Wellness Administrator
• Health Risk Assessment Wellness Coach
• Sensory Motor Coach
• Boot Camp Instructor
• Sports Medicine Physician
An entry level professional with a degree in Sports Medicine usually earns a salary from $18,000 to $50,000 a year, depending upon the number of hours worked per week. Some of the above job titles are not full time, which is why starting salaries are much lower. Because the income potential is not extravagant, many students prefer to continue their education by obtaining a Master's and possibly a PhD. A nice option with this degree is that there are many part-time jobs available which allows for one to support his or herself while pursuing a Master's or Doctorate.