By Misty Sneddon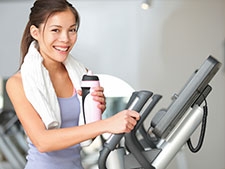 An athletic trainer's job requirements aren't limited to removing bandages, and consequently hair, from an athlete's body. There is a broad scope of knowledge and tasks performed in this line of work. For starters, a four-year (Bachelor's) degree is needed. While not a requirement, many students continue their education with a Master's degree to better their chances of a solid career. Students take courses such as first aid and CPR, strength training, physical therapy, nutrition, rehabilitation, healthcare administration, human anatomy and physiology, kinesiology, athletic motor behavior, sports psychology, and taping and bracing techniques. A clinical internship is also required for graduation.
After receiving a four-year degree, a professional certification is needed. The college or university one chooses to attend should offer an athletic program accredited by the Commission on Accreditation of Athletic Training Education, otherwise certification may not be allowed. Keep in mind, continued education in athletic training is required to maintain the certification. Athletic trainers partner with physicians to provide optimal care and are required by state to work under a licensed physician.
The roles of athletic trainers are many. They provide general health awareness and specific workouts and stretching programs, as well as first aid to injured athletes. Rehabilitation and instruction to prevent further injury is the main goal of their work. Providing first aid is usually accompanied by an emergency situation, which can be stressful. In these situations, it is important to think quickly and stay calm. When it's time for rehabilitation, many athletes become frustrated and may have a tendency to take it out on the trainer. This is when a trainer's creativity and persistence comes in handy while assisting the athlete to reach rehabilitation goals. It's necessary for an athletic trainer to have an outgoing personality and strong communication skills because speaking with the athlete's coaches, physicians, and family members is a large part of the job. If hired by a team, travel is often a requirement and long abnormal work hours such as evening and weekends are usually called for.
An athletic trainer works in these settings:
Secondary and intermediate sports
Professional and collegiate sports
Performing arts
Military
Sports medicine clinics
Large companies
Law enforcement
Physician offices
Rehabilitation clinics
Hospitals