By Misty Sneddon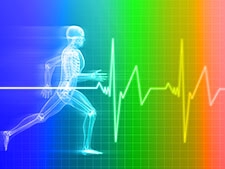 Many Americans are aware of health issues in our population, but they might be surprised to learn some of the following facts. Sleeping burns more calories than watching television. And, fewer than three out of ten high school students get one hour of rigorous exercise a day. These are only a few statistics associated with the obesity epidemic in America. It is a concerning situation and one that certainly needs to be addressed and hopefully changed. For those of you who find the above information worrisome and know you would like to help educate others to live a healthier lifestyle, perhaps getting a degree in Exercise Science would interest you. Certainly, it can feel like a monumental task to try and help so many people change their lifestyles. However, pursuing this career path allows you to guide others in making positive changes in their own lives one person at a time.
Exercise Science is the study of physical activity and how one's body reacts to that activity. A four-year degree usually consists of a specific area of concentration such as education, health promotion, sports medicine, or industry. Undergraduate classes one can expect to take are nutrition, kinesiology, exercise leadership, CPR and first aid, stress management, human anatomy and physiology, theories of strength training, and exercise leadership. Exercise Science majors are also required to complete internships. Concentration classes are similar to biomechanics, ergonomics, personal selling, chemistry survey, technology integration, statistics, composition, social science, and natural science. Some of these classes will require labs.
A successful student will be interested in health and fitness. They generally love competitive sports and any sort of physical activity that promotes a healthy life style. After all, if you choose this career path, you probably have high energy and an active personality. Many other important characteristics an exercise science major will have and or learn are diplomacy, sensitivity to others, and creativity. They need to be resourceful, communicate well, motivate others, work with diverse populations, and easily accept responsibility. It also goes without saying that they are highly motivated, social, and enjoy constant interaction with others. This is a career path that will not work if you prefer solitude.
A Bachelor's degree in Exercise Science provides an excellent platform for further education in fields such as sports nutrition, biomechanics, cardiac rehabilitation, medicine, physical therapy and exercise physiology. However, one doesn't necessarily need graduate education to have a successful career. Many career options for those with a four-year degree are as follows:
Aerobics or Fitness Instructor
Dietitian
Sports Nutritionist
Personal Trainer
Employee Fitness Director
Strength and Conditioning Coach
Physical Education Teacher
Exercise Physiologist
Gym/Facilities Manager
Ergonomics and Wellness Coordinator
Wellness Administrator
Health Risk Assessment Wellness Coach
Sensory Motor Coach
Boot Camp Instructor
An entry level professional with a degree in Exercise Science usually earns a salary from $18,000 to $50,000 a year, depending upon the number of hours worked per week. Some of the above job titles are not full time which is why starting salaries are much lower. A nine-to-five job can be difficult with an Exercise Science degree, particularly if you run your own business, which many Exercise Science graduates do. Many people with this major have more than one job and tend to work abnormal hours; the clientele dictates the hours. Because the income potential is not extravagant, many students prefer to continue their education by obtaining a Master's and possibly a PhD. A nice option with this degree is that you can work part time and continue your postgraduate education while applying what you've already learned and earned in your current career field.