By Misty Sneddon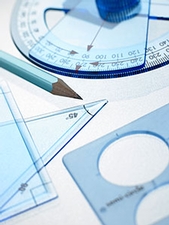 The world of architecture is one of awe-inspiring creativity and logical sense. It seems these creations take your time, energy and patience. Really, it's art and math combined. It's the practice of taking an idea, possibly abstract, and turning it into a practical tactile piece of existence, usually buildings and large structures. But there are other types of architecture as well, such as Landscape Architecture and Interior Design.
An architect has a creative mind as well as an interest in science and math. She is very imaginative and can find solutions thinking outside of the box. Organization and attention to detail are important, as even the smallest mistakes can have hugely expensive consequences when the idea comes to fruition. Analyzing, problem solving, and long work hours are also key factors in this line of work. A good candidate for this program will enjoy creating designs and wondering how buildings are constructed. He will love artistic expression and is happy spending hours perfecting drafts and designs using computer-generated programs and hand sketches.
Being accepted into an architect program may require submission of an artistic portfolio such as photography, drawings, graphic arts, and paintings. In high school, high grade point averages and good SAT scores are preferred, as math and science play a large role in this field. Most architect programs are designed around a four year degree consisting of eight semesters of studio work. Each studio usually counts as two classes per semester. Essentially, half of class time will be in studio with this degree due to the work load. It's best to start your college career with a major in architecture. Beginning college with a general education focus could easily extend the normal four years of education into six years.
Upon graduating, the next step is admission into the fifth year of a professional architect program or a two-year Master's program. From here, a three-year Intern Development Program (IDP) is required. This is when a new graduate is hired at an architectural firm and begins documenting hours toward the IDP. While this is an internship, graduates are typically paid and considered full-time employees by the company. Once the IDP hours are completed, the intern can take the Architectural Registration Exams, seven tests in all. After passing, the intern applies for the state license. In order to maintain the state license, a yearly fee is required.
Most people who get a degree in architecture go on to actually become an architect. Different architect job titles would be Architectural Drafter, Construction Manager, Interior Designer, Landscape Architect, and Urban Planner.
There are a few graduates who don't go on to become an architect but use their degree and skills to pursue careers in sales, such as real estate and insurance, facilities management, surveying, city planning, lighting design, acoustics design, carpentry, building contracting, photography, set design, video game design, engineering in general, teaching, and school administration. Certainly, a degree in Architecture is an excellent choice for many career paths.