By Misty Sneddon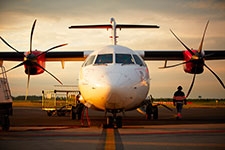 The Blue Angels are an elite squadron of military jet fighter pilots who perform flying acrobatic air shows around the United States. If you've ever seen these planes and pilots in motion, you know it is a thing of pure poetry and awe. The precise control the pilots must demonstrate is critical to the well-being of the entire squadron, as well as those watching the performance from below. These pilots fly low and in perfect synchronized formations. Often times they fly over your home and you can actually see their faces as they rocket past. The jet engines are so crazy loud, you feel the roaring power through your body as goose bumps pulse from your head to your toes. It is a fascinating spectacle and certainly an outstanding goal for a military pilot to achieve. Yet even at the elite level of fighter jets, flying planes is only a small part of what the field of aviation has to offer.
There is a broad range of schooling and careers in aviation. While there are a tremendous amount of piloting positions available, there are also opportunities outside of flying planes. Certain careers such as air traffic controllers, aircraft mechanics, accident investigators, air taxi pilots, airport managers, and unmanned aircraft operators are a few options. Corporate pilots, test pilots, agricultural pilots, helicopter pilots, and military pilots are only a handful of available careers in aviation. According to the Bureau of Labor and Statistics, many air traffic controllers will be retiring within the next ten years, thus creating thousands of job openings. Also, keep in mind that the ever-increasing demand for more flights in commercial aviation will increase the number of pilots needed. For those interested in unmanned aircraft systems (also known as drones) the career outlook is excellent with lucrative pay. Farmers use them for crop inspections. Meteorologists find it much safer to send a drone into the eye of a hurricane rather than being in the plane themselves. Of course, the military was the first to utilize this concept. The demand for drones is growing constantly. As you can see, a career in aviation is a wise choice for job placement and security.
What sort of skills and personality traits does one need to have a successful career in aviation? Pilots and drone pilots tend to be calm, confident, outgoing, assertive, excitement seeking, straightforward, honest, organized, and highly self-disciplined. Air traffic controllers tend to be great at listening and communicating. They are also quick talking, quick thinking, multitasking perfectionists, as they literally hold the lives of thousands in the palm of their hand. It goes without saying, both pilots and air traffic controllers must handle stress well.
Those who are in the unmanned flying aircraft field are good at video games. However, that won't be enough experience fly a million dollar aircraft remotely. Special training is needed and it wouldn't hurt those interested in this line of work to get in with the companies who work with drones. Volunteering and getting internships will definitely help with career placement in this cutting edge line of work.
There are many different paths in aviation education one can take. Depending upon the area of aviation focus one wants to explore, a two-year degree can provide an entry level career in aviation maintenance, aviation business administration, and general aeronautics. Building on this degree, one can add another two years to work toward obtaining an aeronautical science degree in either fixed wing or rotary wing. Other four-year degrees in aviation include aviation technology and management, aviation maintenance, aviation security, unmanned aircraft systems science, and homeland security.
Air traffic control classes consist of aviation weather, map reading, airspace, federal regulations, and clearances classes. In addition to in-class studying, flight training is required for commercial fixed-wing pilots. For those who want to be pilots, example courses are private pilot operations and lab, instrument pilot operations and lab, aerodynamics, domestic and international navigational systems, aircraft systems and components, crew resource management, aircraft engines turbine, applied aviation research methods, and weather for aircrews. Not only is a four-year degree in aeronautical sciences needed, a student must also obtain specific certificates depending upon the major and area of concentration. Drone pilot requirements are similar to those of fixed-wing and rotary-wing pilots.
Aviation is a very broad field and there are many career paths one can choose. To further investigate if this is the right major for you, talk to your high school counselor and a professional at your local airport. You may be surprised at the amount of information and help you can obtain from professionals!