By Misty Sneddon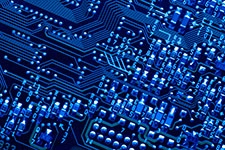 We seem to be continually attached to our computing devices, from desktops at work to laptops on the go. We are even more dependent on our handheld devices. The programs running these computers are the key to keeping us organized, on task, entertained, connected to others, and centered. Most people could not imagine their lives without computers.
Are you interested in accelerating people's fast-paced lives? These days there is a constant demand for faster, bigger, and better when it comes to our computers and programs. All computer operating systems are in a constant state of updating and change: after all, there are probably bugs that need to be fixed and new improved options created to make the app run better. This is a tiny part of what computer science is.
Computer scientists are creators of computing devices, programs and software. They constantly solve problems, think logically, work together in teams, and communicate well with one another. Often, they have to transcend the geeked out computer language barrier by explaining their projects to clientele or employers, speaking in everyday layman's terms. They need to be logical, mathematical, social, inquisitive, independent, creative, and detail-oriented.
Is a four-year degree a good option in computer science? Definitely! Some universities even offer first-year computer science majors a class on potential careers in their field of study. To be successful, you need to know where your interests lie. Do you like creating new technology or would you rather work directly with businesses? Perhaps you would prefer to become an IT technician for a large company. The opportunities you can experience with this degree are constantly growing. However, it is important to select a concentration that will provide an income. Many careers in technical support and software programming are being outsourced to other countries. It's best to be aware of careers that have a high demand within the United States. Going to tech job fairs and meeting employers will give one an idea of what sort of careers are available. Doing your research before deciding on your concentration could mean the difference between utilizing your degree or having to find work completely outside your field of study once you've graduated from a university.
Classes one can expect to take with a computer science degree are computer graphics, theory of computation, algebra, operating systems, calculus, deferential equations, artificial intelligence, complier design, algorithm design and analysis, human-computer interaction, data communications, software testing, and computer networking. Keep in mind, a four-year degree can take many students six years to complete because the math and programming classes can be quite difficult. In other words, if at first you don't succeed, try again.
Careers available to those with a computer science degree are:
Information Technology (IT) Architect
Senior Database Administrator
Security Engineer Information Systems
Configuration Manager IT
Data Scientist, IT
Senior .NET Developer
Software Quality Engineer
Database Developer
Systems Administrator
Project Engineer (IT)
User Experience Designer
Mobile Applications Developer
Support Engineer (IT)
Network Operations Center Technician
Software Quality Assurance Analyst
Computer Systems Analyst
Desktop Support Engineer
Information Technology Support Systems Technician
Senior Applications Engineer
Storage Engineer
Network Architect
Security Engineer Information Systems
Many of these careers offer salaries anywhere from $50,000 to $125,000 annually.