By Misty Sneddon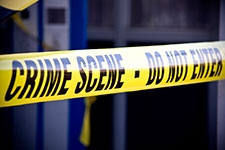 Professionals with a degree in Criminal Justice are alert, quick thinking, physically fit, fair, honest and reasonable. They handle stress well and are good with people, as they are public servants and often find themselves in potentially dangerous and stressful situations. Because they regularly have to diffuse unstable people and settings, their ability to communicate verbally is important. They are leaders who support the law and protect the public.
Police officers are the first professionals in criminal justice who come to mind. Duties vary depending upon the area in which they work. They work at the city, state, and federal levels. Not only do they patrol streets, they also provide security in courts, public schools, and transportation agencies. They use various means of transportation such as cars, motorcycles, horses, road bikes, and boats. Police officers are needed twenty-four hours a day, 365 days a year, and shift work is required.
Detectives arrive on the scene after a crime has been committed. They collect evidence and research documents. After a detective has thoroughly investigated a crime, an arrest is usually made, assuming the person who committed the crime is found. Work hours are constant and inconsistent. Many long days and nights are expected.
Probation officers are in charge of those who have been recently released from prison or are given a probationary sentence. Duties include keeping track of their charges and ensuring that they are fulfilling their sentences. Follow ups are often performed in the probation officer's or case worker's office, at the home of the offender, or in prison. Although probation officers are scheduled to work a forty-hour week, they are generally on call 24 hours a day.
A Bachelor's degree in Criminal Justice provides a list of job opportunities a mile long. A four-year degree can certainly provide a lifelong career. It will also open the door for other careers that require additional education: think lawyers and judges. Common courses one can expect to take while in university are composition, algebra, introduction to criminal justice, crime theory and causes, statistics, research methods, and court and social policy. Many college programs require an internship as well. This hands-on training provides invaluable experience when entering the job market. Upon graduating one will have acquired an understanding of research strategies, interviewing skills, nature of crimes, gender and race considerations, reaction to crimes in societies, and social problems. Criminal Justice students will also have mastered presentations, writing, leadership skills, critical thinking, and decision making. A broad knowledge of the criminal justice system and criminal law will open the door to many career paths.
Careers for those with a degree in criminal justice include:
Bailiff
Police Canine Handler/Trainer
CIA Agent
Litigation Manager
FBI Agent
Corrections Officer
Customs Agent
Law Librarian
Park Ranger
Compliance Manager
Deportation Officer
Warden
Criminologist
Drug Enforcement Agent
Arson Investigator
Detective
Jailer
Correctional Officer
Secret Services Agent
Crime Lab Technician
Witness Protection Agent
Document Examiner
Fire Marshal
Prison Case Manager
Fraud Analyst
Border Patrol Agent
Highway Patrol Agent
Fingerprint Examiner