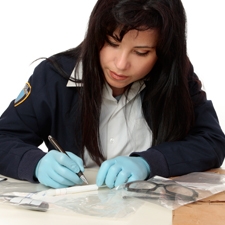 By Marsha Kearns
If you are passionate about preserving peace, justice, and the American way, consider majoring in criminal justice. The criminal justice system operates under the rule of law, which is a set of rules/laws designed to maintain order in society.
The types of jobs you can get vary widely, from federal, state, and local government to business. There are certificate programs for technician or specialized jobs as well as associate and bachelor degrees for in-depth training. You will gain the technical and analytical skills you need, and focus on crime, justice, and the legal system. Counterterrorism and security management have become more important since 9/11.
There are four main parts to the American criminal justice system. There are laws, which define what a crime is. There are courts, in which actions are judged to be crimes or not and punishment is assigned. There is corrections, in which people who have been found guilty of committing a crime are contained and/or rehabilitated. And there is security, in which crime is prevented.
The Broad Scope of Criminal Justice
With such a wide range of choices in the criminal justice system, you may want to talk to people in that field about their jobs and also consult with an academic advisor. You will take courses that range from administration to law to sociology, leading to a thorough understanding of crime and justice, as well as the role of law enforcement and the legal system.
You will learn to think critically about the balance between the need for social order and individual rights. You will learn the origins of criminal behavior, crime lab technology, corrections (jail, probation, parole), and theory. There are many facets to this intriguing and exciting career: investigation, reform, evidence, forensic analysis, police science, victimology, eyewitness testimony, criminal profiling, and the judicial process.
Criminology and criminal justice requires a specific type of person. You will need to have a clean personal record. Your basic drive should be in part a desire to help people. The study is becoming more sophisticated, so be sure you are mentally as well as physically prepared for the coursework and the job you choose.
Types of Skills/Attributes
ethical
analytical
effective communicator
detail oriented
understanding of human psychology
patience
data analysis
research
honesty

good judgment

integrity
responsibility
curiousity
observant
empathetic
foreign language
computer skills
Types of Jobs/Fields
Department of Homeland Security
FBI
Department of Defense
Department of Transportation
Immigration and Naturalization
Food and Drug Administration
Veterans Affairs
state police
county police
park police
juvenile justice center
sheriff department
crime lab
security patrol
crime commission
narcotics bureau
liquor control board
insurance companies (loss prevention)
private detective
corrections officer
crime analyst
psychologist
warden
Self-Assessment
Do I want to help prevent and punish crime?
Am I interested in helping people rehabilitate themselves?
Am I willing to work long hours at irregular times?
Am I willing to stay physically fit?
Do I make good decisions under pressure?
Am I a team player who respects the rules?
Am I responsible and accountable?
Am I self-disciplined?
Can I exercise self-restraint?
Am I willing to be properly educated before assuming my duties?
*If you answered "yes" to 8 or more of these questions, a major in Criminal Justice might be right for you.