By Misty Sneddon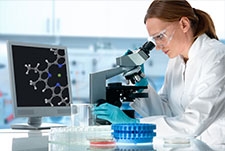 A degree in Medical Technology prepares a student to enter the medical field specifically as a clinical laboratory scientist and can open the door to career paths like an ultrasound or x-ray technician. Work environments in Medical Technology include pharmaceutical, diagnostic, government, and hospital laboratories, as well as private doctor practices and day surgery diagnosing facilities. There are basically five specific laboratory areas in which clinical laboratory scientists work: chemistry, immunology, microbiology, hematology and blood banking. These scientists perform multiple tests and procedures and assist doctors in diagnosing and treating patients with certain medical conditions. The equipment lab scientists work with include microscopes, centrifuges, cell counters, and other precise electronic equipment. They spend most of their time analyzing human blood and tissue, looking for parasites, cancer cells, and bacteria. Other duties include blood typing, matching blood for transfusions, and analyzing blood samples in search of drugs and other chemicals in the blood. While all of this is happening, they are also responsible for quality control and monitoring equipment and test results for accuracy. Because technology changes frequently, a person in this field needs regular continuing education to keep up with machines and procedures.
Because they sometimes have a patient's life in their hands, people in the medical technology field must be precise when it comes to details and be able to work quickly under pressure. After all, a doctor is waiting for the test results. If there are incorrect results, a patient could be severely injured and possibly die, so there is a certain amount of stress with this work environment. These professionals often are motivated by the challenge of solving problems. They have high standards and expect likewise from their coworkers. Communicating well is also very important in this line of work.
Classes a student can expect to take while pursuing a Medical Technology degree are cell biology, microbiology, genetics, general chemistry, principals of biology, organic chemistry, biochemistry, physiology, hematology, immunohematology, parasitology, clinical microscopy and body fluids, serology, medical terminology, clinical correlations, instrument analysis, cell and tissue culture techniques, and phlebotomy.
Upon graduating, many students with a degree in Medical Technology gravitate toward the following careers:
• Clinical Laboratory Technologist
• Cardiovascular Technologist
• Diagnostic Medical Sonographer
• Occupational Health and Safety Specialist
• Radiologic Technologist
• Surgical Technologist
• Medical Records and Health Technician
While the above list may seem small, keep in mind that obtaining a degree in Medical Technology is quite specialized. It is important to realize the amount of career opportunities available once a career is secured: entry level work can lead to more advance positions including administrative roles and management. Most careers in this field provide an annual salary between $30,000 and $60,000.