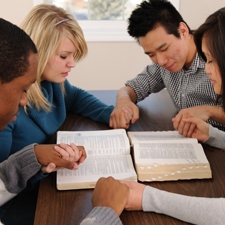 There are many opportunities that exist within ministry-related careers. For those who believe they would like to serve through full-time ministry, one of the most important questions to ask is…where is my call to ministry coming from? Is your interest in ministry from a desire to help others, or is it a "call" from the Lord? While Christians are called to serve in every profession we undertake, I believe full-time ministry may be best considered as a response to a God-given call and a unique skill set.
Whether you are considering a career as a children's pastor, music/worship leader, senior pastor, youth minister, or Bible teacher/professor, your focus should be on service to Christ rather than on service to others. The truth is, that at times, people can be wonderful to work with and serve, but individuals are also imperfect and can be challenging to work with to say the least. If your interest in service through ministry as your full-time career has risen from God's call on your life, or if it's from Him placing the desire to serve through ministry on your heart, then this will likely be your passion. In the popular study, "Experiencing God", the authors touch on this notion of "service" being to Christ first. With service to Christ as the focus of ministry, it removes our personal views of the one being counseled, helped, or served. Personalities, differences of opinion, or whether or not someone seems "lovable" no longer is the issue when what we are doing is actually service to Christ. Seeing Christ rather than the one we are "serving" can dramatically change our view and improve our ability to minister.
A career of service through ministry will likely be challenging, rewarding and constantly changing. If God is leading you into a life of ministry, it can be one of the most exciting professions you can imagine.
Youth Ministry
If you are considering a career in youth ministry, some of the important characteristics that you will need include integrity, empathy, patience, generosity, and hospitality.
Youth Ministry can be a wild ride. From all-night church functions with teens, to leading a bible study at a youth group meeting, to having pizza with a 15 year old who is struggling through a dramatic family crisis, the youth minister today may be called to serve in ways that would have been difficult to imagine even ten years ago. Youth ministers must also realize that it is critical to have the ability and interest in relating to the parents of the youth they serve. This is one area some youth pastors may not fully appreciate or understand. The youth minister should realize that they are in a "helping role" to the parents of the student, so being able to work with and relate to parents of middle and high school age students is critical. Youth ministers need to understand that their role is not to become a parent to the youth, but rather to "stand in the gap" to assist parents in raising godly young men and women.
The ability to authentically talk with teens about the serious obstacles they face to maintain their faith in our society today is crucial to effective youth ministry. Therefore, the youth minister must have a thorough understanding of God's Word and an ability to show how the Bible applies to teens today.
Ministry is a rewarding and challenging profession, and if God has called you into a life of ministry, there is no better place to be.
By Thom Seagren-President, The Christian Connector, Inc.