By Misty Sneddon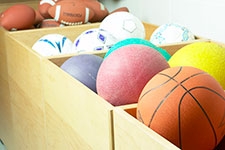 Pursuing a degree in Physical Education is an excellent choice for those who are interested in health and fitness. These students generally love competitive sports and any sort of physical activity that promotes a healthy lifestyle. High energy and active personalities are usual characteristics of those who study this field. A Physical Education major should also have the ability to care for, be sensitive of, and commit to others. Physical Education majors will need to be resourceful, listen and communicate well, and become good problem solvers, as not only will they be working with many kids, they will also have the challenge of meeting the requirements of special needs children. They must be positive and motivating. Being comfortable working with diverse populations is also important. Physical Education Majors are usually highly motivated, social, and enjoy constant interaction with kids and young adults.
Many Physical Education teachers start teaching upon completing a Bachelor's degree and getting a teaching certificate. Eventually, some teachers choose to get a Master's and sometimes a Doctorate, depending upon career goals. At the college level, a Master's is necessary to teach part time and a Doctorate for full time. Some students will double major for better job placement options. Some options for additional majors might be English, math, history, and science.
Many students spend the first two years of college fulfilling general education requirements such as composition, math, public speaking, human development, childhood education, sociology, science, and art appreciation. The next step is to become accepted into a teaching program. Prerequisites include general studies as well as experience working with kids. Volunteering at elementary, middle and high schools to show a certain amount of hours working with kids can help speed along one's acceptance into the teaching program. Depending upon the level of education one wants to teach, the following classes may be necessary: first aid/CPR, methods of track and field, methods of gymnastics, mindfulness and health, kinesiology, methods of softball, methods of football, contact improvisation, methods of racquet sports, methods of basketball, methods of baseball, personal nutrition, contemporary topics, methods of rock climbing, methods of swimming and diving, muscle works, and methods of weight training.
Student teaching is usually the step after completing college course work. This is where you work under an established teacher and teach in a supervised classroom for at least eight weeks; some programs require even more time. A background check and fingerprinting is usually necessary in order to work with children. After all of these requirements are met, one must pass a sequence of tests to earn a license. This license must be renewed every five years and teachers must have additional higher education credits for that renewal. This is often why teachers decide to get a Master's.

Most newly graduated students in education earn a starting salary at $26,000. Those who have been teaching for awhile make around $50,000. Common careers for those with a degree in physical education are:
• Elementary School Physical Education Teacher
• Middle School Physical Education Teacher
• High School Physical Education Teacher
• Coach
• Special Needs Teacher
• Instructional Coordinator
• Health Educator
• Adult Literacy Teacher
• GED Teacher
• Recruiter
• Self-Enrichment Teacher
• School Principal
• Social Worker
• Public Relations Manager
• Professor
• School and District Administrator
If you are considering a career in teaching, it is best to first discover if you like to be around kids. Volunteering with after-school programs or working part time as a summer camp counselor will provide excellent hands-on experience.