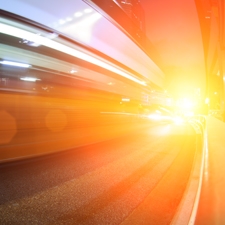 By Marsha Kearns
"No amount of experimentation can ever prove me right; a single experiment can prove me wrong." --Albert Einstein
Physics is the broadest, perhaps the basis, of all the other sciences. It teaches you a way of thinking that makes you take a logical look at issues and solve the problems presented. As a physics major, you will study and use mathematics to prove or disprove theories involving the relationship between energy and matter. You will also investigate the laws of nature that govern their behavior.
The world of physics is the study of our world and beyond, from subatomic particles to the structure of the universe and everything in between. You may be interested in magnetism, electricity, mechanics, or quantum theory. You might prefer wave properties, nuclear processes, lasers, or the Big Bang. Physics touches every aspect of our lives, and therefore opens a world of possibility for physics majors.
You need to decide what you want to do with your physics major. A bachelor's degree will be enough for some jobs; a master's will be required for others. If you want to use physics as base for a career in a different area, a bachelor's degree will most likely suffice. If you want to teach, you'll need at least a bachelor's degree and a teaching certificate. If you want to go into more theoretical research or go into applied science, you will need a master's or a doctorate. Talk to an academic advisor about the path you want to take and the study track you will need to achieve your goal.
A Variety of Careers with a Physics Degree
Physics will prepare you for a wide-ranging choice of careers. The basic skills you use for this elemental science transfer to innumerable professions.
A career in physics may lead you into teaching, applied physics, or pure research. Research and development helps increase our overall knowledge of science. Teaching prepares others for careers in science. Applied physics is where many physics majors direct their attention because it brings physics into use in tangible ways.
It is difficult to describe all the options available to a physics major. You may do research and development for a university or for the government. You may work in a lab smashing atoms. You might even travel into space or the ocean. Or you might help a business develop new technology, improve medical equipment, or write new computer programs.
Types of Skills/Attributes
curious

strong science skills

excellent math ability

logical
focused

problem solver

analytical

communication skills

writing skills

team player

determination
Types of Jobs/Fields
computer science

engineering
research
teaching
electronics
medicine
astronomy
biology
environment
law

science writing

nuclear physics

telecommunications
Self-Assessment
Do I wonder how the world works and want to know why?
Do I enjoy logic puzzles and word problems?
Am I willing to learn good communication skills?
Do I like to propose new theories and make predictions?
Do I like to organize and interpret scientific data?
Am I willing to spend long hours studying and making good grades?
Am I willing to develop relationships with faculty who can provide me letters of recommendation?
Am I able to separate emotions from research and its results?
Do I want to know the truth?
Do I absolutely love physics?
*If you said "yes" to at least 7 of these questions, a major in Physics might be right for you.