By Misty Sneddon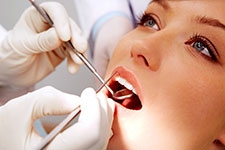 A Pre-Dentistry program isn't a specific major: it's more like a package of classes that assists students in taking all the pre-required courses necessary to be accepted into dental school. Many Pre-Dentistry students major in biology, chemistry, physics and liberal arts. In addition to the Pre-Dentistry program, some dental schools require additional classes that may not be included in the Pre-Dentistry program, so it is a good idea to check with the admissions department of the school. Depending upon one's chosen major, classes a Pre-Dentistry student can expect to take are probability and statistics, microbiology, genetics, general chemistry, principals of biology, organic chemistry, biochemistry, physiology, hematology, clinical microscopy and body fluids, serology, medical terminology, clinical correlations, instrument analysis, anthropology, sociology, psychology, performing arts, English literature, environmental science, and world religions. Some of these classes may seem completely alien to Pre-Dentistry, but if one has chosen to major in liberal arts, a student may take many classes that have nothing to do with the medical field. Also, a degree in liberal arts will enable one to get along with and better understand future patients.
Students who pass all of the pre-admission courses will then take the Dental Admissions Test (DAT). Anyone can apply to a dental program; all it takes is passing the pre-admissions courses with a specific GPA. However, the amount of pre-coursework required is extensive, and many students find it makes sense to go ahead and take a few more classes in order to earn a Bachelor's degree before entering dental school. Dental schools also look at a student's volunteer hours in a dentistry setting. Those who have spent time observing and assisting dentists, have received good scores in pre-required classes, and interviewed well with the dental school have a better chance of being accepted into a program. Most dental programs take approximately four years to complete, so a student who wants to become a dentist will often have six to eight years of college before practicing as a dentist. After a student graduates from dental school, certification by passing the National Board Dental Examination is required. Dentists who choose to provide more specialized services require additional schooling and licensing.
It's safe to assume that students who choose a Pre-Dentistry program will most likely wish to eventually become a dentist. However, there are other career choices one can pursue with a Pre-Dentistry focused four-year degree. Below is a list of careers many graduates enjoy:
General Dentist (DDS)
Cosmetic Dentist
Oral Surgeon
Periodontist
Orthodontist
Dental Lab Technician
Dental Assistant
Dental Office Manager
Dental Receptionist
Dental Appointment Scheduler
It's important to be aware that three out of four dentists own their own practices. Business management will play a key role in one's success as a dentist, and it would benefit students to take a few elective college courses in business management as well. An average annual wage for dentists is $165,000, while dental assistants make approximately $35,000 a year. A dental lab technician will earn approximately $37,000 a year, and a dental office manager makes $39,000 to $46,000 a year. Many people choose to become dentists because they can also choose the hours if they own their own practice. That being said, many dentists choose to work four days a week and enjoy three-day weekends. Others offer hours that work well for clientele, such as late evenings, early mornings, and Saturday appointments. Of course, dentists will be on call but can share those duties with fellow dentists in the same practice.