By Misty Sneddon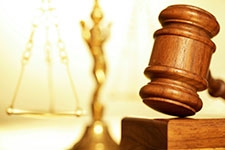 A Pre-Law program isn't a specific major: it's more like a package of classes that helps prepare students pass the Law School Admission Test (LSAT) and become accepted into law school. Many Pre-Law students major in political science, government, criminal justice, liberal arts, history, philosophy, economics, or business. However, law schools like diversity and will also accept students who graduated with any kind of Bachelor's degree and encourage students to pursue what interests them. This way, they will have a niche background for when they become lawyers and possibly judges. It's important to be aware of the rigorous law school curriculum, which is why many students choose four-year degrees with a focus that pertains more to law. When choosing a major with a pre-law emphasis, a student should engage in classes that demand analytical reporting, writing, communicating, critical thinking, critical reading and listening skills.
Depending upon one's chosen major, classes one can expect to take are contemporary global controversies, power and justice, ethics and society, film and politics, political inquiry, The Presidency, foreign languages, United States Congress, race and ethnicity in American politics, international relations and trade, political psychology, networks, computation in telecommunications, energy economics, capitalism, public finance, world poverty, game theory, nonlinear econometric analysis, economic history, political economy, and economic growth and crisis.
While many students entering law school do so fresh from college, there are many people who do not enter law school until later in life. These people are professionals who have gained much life and work experience that can be applied to their studies. Both avenues are equally and enthusiastically accepted into law schools, provided they've passed the LSAT test and have been accepted into law school. Most people will take the LSAT one year before they plan to attend law school, allowing them plenty of time to go through the admissions process. One should also note that it is best to take the LSAT test only one time: many schools average the two scores, which can lead to a weaker chance of being accepted.
While many students who graduate with a four-your degree and Pre-Law emphasis are likely to continue into law school, others may find they would rather gain some real life skills utilizing a Bachelor's degree. Truly, the numbers of careers available to those with a pre-law focus are quite plentiful.
Legislative Assistant
Budget Analyst
Journalist
Lobbyist
City Housing Administrator
Attorney
Political Consultant
Foreign Service Officer
Coordinator of Federal and State Aid
Mediator
Political Commentator
Survey Analyst
Corporate Public Affairs Advisor
Foundation President
Communications Director
Congressional Office/Committee Staffer
Activist/Advocate Organizer
CIA Analyst
Juvenile Justice Specialist
Intelligence Officer
Economist
Macroeconomist
International Economist
Public Finance Economist
Statistician
Survey Researcher
Econometrician
Commodity Analyst
Demographer
Underwriter
Financial Researcher
Tax Economist
Population Studies Analyst
Institutional Researcher
Securities Broker
Stockbroker