By Misty Sneddon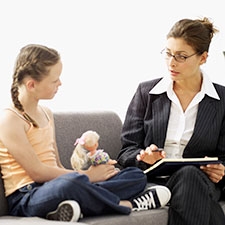 A social worker helps people in crisis discover better life situations. These people are usually recovering from addictions to alcohol and drugs, are leaving abusive relationships and need assistance, or are children who are in abusive or neglectful living environments. A social worker will act as a liaison between the client and institutions and agencies for which the client is dealing with. These agencies and institutions are administered and funded primarily through government entities. Ideally, a social worker will work with the client to improve living conditions and change the client's problematic behavior.
Because social workers must empathize with clientele, the ability to communicate well is vital. This career choice can be stressful and emotionally exhausting, as many situations are charged with sadness and desperation. Other characteristics of successful social workers include resilience, persistence, and determination. Most importantly, the ability to not take things personally is key for this career choice.
While a four-year degree in Social Work is a good start, many social workers will continue education at the Master's level, obtaining a degree that goes hand in hand with Social Work and allows for elevated careers in specialty practices. To practice as a licensed or certified clinical social worker, one must have a Master's degree. Depending upon the state in which one lives, licensing requirements vary. That being said, a licensed or certified clinical social worker will generally have graduated with a specific grade point average, earned a Master's degree, and worked under supervision in a clinical practice for a minimum of two years. According to the National Association of Social Workers, there are ten specialty areas of focus, which are administration and supervision, aging, alcohol, tobacco and other drugs, children, adolescents and young adults, child welfare, health, mental health, private practice, school social work, social and economic justice and peace, and social workers and the courts.
Social workers' services are needed in areas such as children in crisis family situations, clinical therapy, employment assistance, gerontology, the poor and homeless, school, and mental health care. Depending upon one's education and experience, social workers make anywhere from $30,000 to $65,000 a year. Here is a list of environments where social workers practice:
• Child Welfare Services
• Child Protection Agencies
• Career Centers
• Adoption Agencies
• Victims Services Offices
• Nursing Homes
• Correctional Facilities
• Foster Care Agencies
• Probation Offices
• Veteran's Agencies
• Head Start Clinics
• Courts
• Psychiatric Hospitals
• Homeless Agencies
• Hospice
• Police Departments
• Mental Health Clinics
• Schools
• Prisons