By Misty Sneddon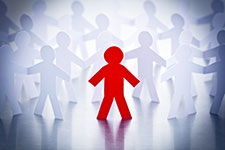 A sociologist studies human behavior and uses economic, political, psychological, and historical perspectives to interpret the direction societies are heading. By studying past societies, a sociologist can correlate today's current trends and try to accurately predict where our current societies will end up.
A degree in Sociology is similar to a Liberal Arts degree. If you are considering postgraduate education, a Sociology degree will provide an excellent background, as the curriculum is quite broad, consequently creating an enthusiastic interest from medical, law and business programs. Skills a Sociology major will acquire are critical researching, writing, reporting, and communicating. Because sociologists need superior interpersonal skills, it's necessary to be comfortable with diverse populations. The discipline of sociology requires that a student hone analytical skills in order to discern current trends and patterns accurately.

A Sociology major can expect to take classes like methods of sociological research, sociology theory, social and culture change, power and politics, social interaction, racial and ethnic relations, cultural anthropology, families, populations study, social problems, archeology, youth and crime, media, culture and society, punishment and corrections, linguistics, developing societies, policing and counter terrorism, and probability and statistics.
After graduating with a four-year degree in Sociology, students often choose to further education by entering law and medical schools. Others will continue by choosing a Master's program. Those who choose to enter the workforce after graduating with a Bachelor's degree have plenty of career options. In order to become a sociologist, a student must earn a Master's or Doctorate; the average yearly salary for a sociologist is $75,000. Since sociologists are interested in so many aspects of society, the careers where they end up are very diverse.
Possible career options for those with a degree in Sociology:
• Social Scientist
• Researcher
• Demographer
• Administrative Assistant
• Welfare Examiner
• Benefits Specialist
• Insurance Agent
• Convention Organizer
• Budget Analyst
• Interviewer
• Human Resource Specialist
• Criminologist
• Gerontologist
• Corrections Officer
• Parole Officer
• Educator K-12
• Fundraiser
• Professor
• Adoption Agent
• Career Counselor
• Financial Aid Director
• Veteran's Affairs Specialist
• Media Specialist
• Event Planner
• Congressional Aid
• Residential Counselor
• Community Organizer
• Hospital Administrator
• Journalist
• Publisher
• Editor
• Reporter
• Consumer Advocate
• Program Specialist
• Health Statistician
• Public Health Educator