By Misty Sneddon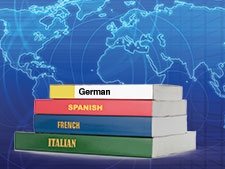 With the current world situation, it would certainly benefit anyone to pursue a degree in Foreign Language. Learning Arabic would be essential for a person wishing to better the current crisis with terrorists. Of course, there are many other foreign languages one can learn. The more specialized and less known a foreign language is, the more specific career options become available. Someone who chooses to learn Mandarin is more likely to have a narrowed career field, while those who learn Spanish will have multiple career options to choose from.
Obtaining a degree in Foreign Language is the key to opening a whole new world. Not only have you obtained a second, third, or possibly fourth language, you now have an opportunity to teach others these languages, either in the United States or in other countries. Another excellent career option is becoming a foreign language translator. A translator usually works with the written language while interpreters work in real time verbal translations. Then there is a foreign language consultant. These consultants are often hired by large companies who have outsourced their production. These corporations often find miscommunication to be a difficult problem. A foreign language consultant can be valuable for improving communication and also making others aware of cultural differences.
Students choosing to pursue a degree in Foreign Language will not only be able to speak a language other than English, they will also have a well-rounded understanding of the different cultures and communities behind the chosen language. Such languages as Arabic, Italian, Spanish, Chinese, Japanese, Mandarin, French, Brazilian, Russian, and American Sign Language are commonly studied. Classes a Foreign Language major can expect to take are applied phonetics, linguistics, cultural history, literature and reading classes, foreign language composition, grammar and communication, oral and written communication, technical and commercial translation and contemporary and ancient civilizations, to name a few.
Job prospects are excellent for those who are fluent in other languages. Not only do you have a skill that many employers are desperately looking for, you also have an excellent education. Many students find a double major more beneficial in the hiring world, as they have a focused career niche.
Becoming bilingual is an excellent asset to have in today's career field. By the year 2020, the projected growth for bilingual careers is 42%, and this figure doesn't account for all the bilingual military career options available. Even with the majority of bilingual Americans speaking Spanish, the demand for bilingual speakers in states like California is astounding as translators and part-time foreign language teachers are making around $40 an hour. Large corporations like Amazon.com and Apple are in constant need of bilingual people to fill multiple roles. Because of today's world events, particularly countries experiencing unrest such as Arabic and Asian countries, foreign languages with the highest potential earning income are Arabic and Chinese.
Once a person becomes proficient in a foreign language, he or she could work in any country that speaks the newly learned language, assuming immigration laws allow it. There is also a very high demand for bilingual people here in the United States. Below is a list of potential careers for those with a degree in Foreign Language:
Translator
Missionary
Conference Interpreter
Escort Interpreter
Intelligence Specialist
Judiciary Interpreter
Literary Translator
Medical Translator/Interpreter
Foreign Correspondent
Teacher
Air Traffic Assistant
Journalist
Photographer
Immigration Officer
Banking Correspondent
Historian
International Trade Economist
Overseas Plant Manager
Linguist
Drug Enforcement Agent
Engineer
Technical Translator
Researcher
Technical Writer
Business Manager
Tour Guide
Airline Steward/Stewardess
Commercial Airline Pilot
Field Researcher
Doctor
Foreign Service Peacekeeper
FBI or CIA Agent
Companies and industries that employ those with a Foreign Language Degree are:
Import/Export Companies
Schools
Government Agencies
International Banks
International Student Programs
Hospitality Industry
Corporations
Railroads
Automobile Industry