By Misty Sneddon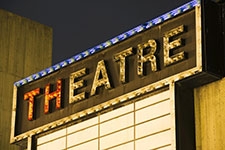 Theater stimulates our senses and emotions in ways that few other experiences can. Pursuing a degree in Theater provides the student with critical thinking and problem solving skills. An actor takes a script and makes a production out of it. Actors must look into the subtlety of the script to find difficult yet significant clues that help create the feel of the production. They understand deadlines; after all the production begins whether one is ready or not. Actors gain experience reading crowds, which easily transfer to successful business and sales careers. As a general rule, Theater majors are resourceful, courageous, and versatile team players. These characteristics are learned through experience.
Considering a degree in Theater is a big step. While good grades in academic classes usually give students more flexibility in considering future options, Theater is one area where things aren't always black and white, particularly when it comes to employment. What a Theater major needs to focus on is perfecting an audition. The more appealing it is to others, the more likely the performer is to get a job. However, a degree in Theater is not easy. Like all creative avenues, it requires excessive time and effort. In fact, a Theater major can expect to spend just as much time, if not more, studying and creating than students studying more conventional majors.
Theater students can expect to take the following types of courses, depending upon the concentration pursued: stage management, musical theater, theater, acting, dance, television production, film production, visual effects, interior design, creative writing, dramatic play writing, visual arts and graphic design.
While the first two years of college education usually focus on traditional classes such as composition, math, literature, public speaking and physical education, the classes you register for in junior and senior year will depend upon the concentration chosen. Not only will you gain knowledge of Theater, you will graduate with other critical skills needed for career success, skills such as time management, critical thinking, communication, writing, organization, and entrepreneurship.
What does one do with a degree in Theater? Contrary to popular belief, not all artists are starving. Most performing artists are freelance, meaning they work for themselves. Usually a company or person will contract them for a specific project. Once they are finished, they are off looking for another "job." Such artists promote their own work through various ways, such as using Facebook, Twitter, YouTube, and LinkedIn accounts. Social networks allow excellent opportunities for artists to connect with potential contractors. Many have their own websites where they showcase their work. The reality of working as a freelancer means, however, that performing artists often take secondary jobs to supplement their income. Those who do work in the creative industry tend to have higher levels of fulfillment with their careers.
Possible career options for those with a degree in Theater:
Theater Teacher
Dance Instructor
Voice Coach
Film Director
Television Producer
News Anchor
Fashion Designer
Broadway Performer
Performance Critic/Writer
Video Artist
Event Planner
Theater Owner
Wardrobe Staff