By Misty Sneddon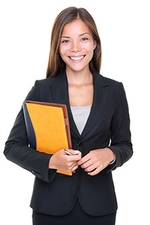 It's apparent that those in business are good at multi-tasking. But what else does it take to be successful? Are you a rational risk taker? Are you confident, believe in yourself, able to take criticism and have an open mind? Are you able to let go of your pride and use others' ideas when they are better than yours? Can you think quickly on your feet and cut to the chase? Being able to see things from the would-be customer's perspective, as well as being a strong decision maker, are required qualities in the business world. Whether you are running your own company or working for someone else, a degree in business will help get you there.
There are many degree options in business. Some include business management and administration, entrepreneurship, marketing, finance, sales, business communications, human resource management, and international business. While two-year, or Associate's, degrees are available, most students decide to get a four-year degree. Some further their education by getting a Master's, which can take an additional two years of schooling. Business majors usually begin taking entry level classes such as English, math, and economics. As they get deeper into their major, they take classes such as finance, communication, marketing, consulting, foreign language, and even psychology. From a practical standpoint, many students first graduate with a four-year degree and then immediately jump into the workforce. After gaining hands-on knowledge and moving up from an entry level career, a Master's is a good option for career growth. Sometimes the employer will provide financial aid for continued education, usually with an agreement that the employee will stay with the company for a predetermined amount of time.
Business degrees provide an excellent background with huge flexibility for career choices. While many graduates utilize their educations with degree-specific careers, there are many students who end up in a career that doesn't directly pertain to their degree. That being said, they can still be very successful and satisfied with the career they've chosen. A degree in business provides an excellent generalized background. Future employers recognize that as a business student you've learned how to think critically and analytically. They know you've become comfortable working in teams and have experience with public speaking and presenting your marketing ideas. Potential employers understand that these skills will only become sharpened the more they're utilized in the private sector.
Here are example careers for those with a degree in business:
Marketing Research Analyst
Loan Officer
Marketing Manage
Executive Assistant
Operations Research Analyst
Compliance Officer
Financial Advisor
Business Owner
Sales Manager
According to U.S. News and world reports, those with a four-year business degree do lucratively well in the following careers:
Senior Network Administrator
Automotive Retail Sales Person
Store Owner
IT Systems Manager
Payroll Director
Bank Examiner
Chief Marketing Officer
The career possibilities for those with a business degree are endless because wherever one looks, there are businesses. This degree has a long-reaching scope and will get you far in the right setting. An excellent way to discover if business is right for you is to consider talking with local businesses. See if anyone is hiring part-time. Simply being in a business environment introduces you to many potential connections and provides hands-on experience. It will give you a taste of a future career in business.