By Misty Sneddon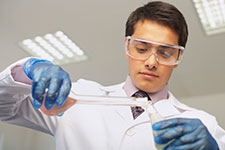 If you like consistency and reproducing the same results and then adding to those results for a desired change, then chemistry may be for you. The study of matter and the way it interacts with other matter and energy is chemistry. But is it really that simple? Probably not. Chemistry is all around you. What's in the soda you've been drinking? How did they get that lotion to smell like blooming lilacs in the spring? What about mom's vegetable garden? Was it grown organically or with pesticides? How do we get gas and oil from the earth? Do we have to process them before we can use them in our machines and vehicles?
Do you have what it takes to pursue a degree in chemistry? Having an investigative and hands-on personality is helpful, as well as a need to understand how things work on a molecular level. Obviously, you should enjoy science and math. Attentiveness is important as well: you don't want to blow up a lab because you added the wrong chemical. Keep in mind, writing is a large part of research work. You don't have to enjoy every aspect of these subjects but they are all an integral part of chemistry.
By pursuing a degree in chemistry you could end up understanding and answering the above questions. Science and math are the main components in this field of study. In the first four years of college you can expect to take the following courses: General Chemistry, Organic Chemistry, Physical Chemistry, Analytical Chemistry, Inorganic Chemistry, Biochemistry, Physics, Calculus, and Technical Writing. Phew, sounds like a lot of work! Not only will there be lectures in all these classes, but most of them come with separate lab time too. While in lab, you'll become a pro at working in teams, using instruments, perfecting measurements, chemical handling, analyzing data, and reporting your findings.
How much education is needed to become a chemist? A four-year degree is the starting point. However, many people further their education with a master's (M.S.) and then go on to their doctorate (Ph.D.) because it is difficult to get entry level work as a chemist. To become a researcher or teacher, a minimum M.S. is required. Becoming an intern after acquiring your bachelor's degree is essential in opening the door to a career in chemistry. Many companies provide the hands on training needed and some will help fund your further education, providing job security.
So what exactly can one do with a chemistry degree? Many careers available will not have the title "chemist" in them. But there really is a large path one can take with a chemistry background. Thinking outside the box, one could become a Forensic Technician, Product Tester and Analyzer, High School Teacher, Science Writer or Technical Writer, Environmental Consultant, or a Scientific Equipment Sales Representative. Many doctors and pharmacists have a bachelor degree in Chemistry. Other careers that are directly related to chemistry and would be more of a lab working environment could include, Toxicology, Chemical Engineering, Research Chemistry, Agricultural Chemistry, Food Chemistry, Forensic Chemistry, and Quality Control Chemistry (chemical sales) to name a few.