By Misty Sneddon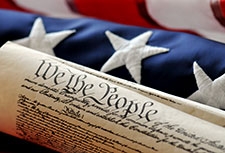 A Bachelor's degree in Government will open the door to a career with limitless opportunities, as there are literally millions of government careers available, ranging from administration of a small town to positions in the federal government. This degree will give you a well-rounded background as you will take classes like college algebra, writing and inquiry, natural science, social science, American government, humanities, geography, political theory, international relations, American politics, comparative politics, civic philosophy in ancient Greece, political outcomes, moral issues in contemporary politics, nuclear weapons and arms control, international political economy, political psychology, and introduction to Congress. While this curriculum list is expansive, usually a study emphasis is required when getting a degree in Government. Depending upon the college you attend, areas of emphasis could be American Government, Pre-law, International Security, International Relations, Law and Justice, Legal Studies, World Affairs, and Foreign Policy.
After obtaining a Bachelor's in Government, the list of career options is almost endless. Here are few sample ideas:
• Conflict Resolution Specialist
• Deputy Policy Director
• Legislative Correspondent
• Municipal Clerk
• Firefighter
• Hotshot
• Smokejumper
• Purchaser
• Accountability Court Coordinator
• Political Action Committee Organizer
• Government Reform Activist
• Environmental Science and Protection Technician
• Human Resources Specialist
• Customer Service Agent
• Election Specialist
• Park Ranger Specialist
• Foreign Service Officer
• Public Safety Services Coordinator
• Interpretive Language Translator
• Public Relations Specialist
• Community Organizer
• Program Manager
• Equipment Maintenance Technician
• Intelligence Research Specialist
• Disability Services Coordinator
• Information Broker
• Public Affairs and State Relations Director
• Grant Writer
• Political Party Staffer
• Social Science Research Assistant
• Lobbying Organizer
Those who work for the government enjoy the idea of job security and/or public service. Often there is a tradeoff with job security and set salaries: those who get a paycheck from the government are subjected to a regimented pay scale and pay raise system based upon job knowledge, continued education, and work performance. There are many benefits associated with government careers, and oftentimes the government will provide sign-on bonuses and will pay off student loans in order to attract newly graduated and/or extremely desirable professionals. This holds particularly true with teachers, firefighters, police officers and nurses. There are approximately 50,000 entry level full-time career options annually with the federal government, and 84% of these careers are located outside of Washington, D.C. An inclination to assist the public is necessary in this line of work.