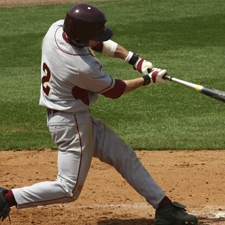 By Marsha Kearns
Are you a sports nut? Do you love the competition, the energy, and the personalities involved? Are you ringside, on the sidelines, or in the bleachers (or on the couch in front of the TV) most of your free time? If so, but you don't want to play, coach, or referee, you can still be part of the world of sports that you love.
Sports is great entertainment, but it's also big business. If you're interested in how the sports industry works, you could find your calling in a major in sports management. A degree in sports management will focus on the business and administrative aspects of sports.
With a major in sports management, you will study such areas as sports in culture, intercollegiate sports, professional sports, sport ethics, sport law, sport finance, and sport facility management. Even within those broad areas, there are subspecialties and a variety of jobs you could do. Jobs in this field are very competitive. It will pay off to have hands-on experience and a wide network of contacts to help you find the perfect position for you. The sooner you start investigating your choices, the sooner you can focus on a specialty, and the faster you will get your dream job.
A Career in Sports Management
You'll need to fulfill academic requirements, and you'll need a degree. You'll also need to develop a network of contacts, find a mentor, and most likely serve a hands-on internship. You could focus on a specific area or sport, since sports management is so diverse. Volunteering as a coach or official at local sporting events is a good way to break into this competitive field.
The goal of sports management is to keep games running smoothly. You may work completely in sports, such as with a team or school. If you manage sports facilities, you will most likely get variety through handling other large events, such as concerts. No matter what area of sports management you choose, you must have great organizational skills. You'll have to stay on budget, on schedule, and on your toes with players and teams.
Types of Skills/Attributes
business savvy

leadership skills

organized
enthusiastic

problem solver

accounting
marketing

oral communication

writing

negotiating skills

self-motivated
energetic
collaborative
Types of Jobs/Fields
sports agent

program director

marketing and promotions

academic services for student athletes

sales director

sporting goods representative

facilities manager

event manager

sports broadcasting

athletic director

business manager

fitness manager

ticketing
financing

media relations

camp director

journalism
Self-Assessment
Do I want to spend my time and energy working with people who love sports?
Am I willing to work long hours at irregular times?
Am I willing to work nights and weekends?
Am I interested in how business and sports interact?
Am I concerned about sports being profitable and beneficial for everyone involved, from athletes to coaches to fans?
Am I concerned about ethics in sports?
Do I like to plan and promote sporting events?
Do I like to read, write, and talk about sports?
Am I interested in sports psychology, sports history, and how sports fits into our society?
Do I want to serve others in the sports industry?
*If you answered "yes" to 8 or more of these questions, a major in Sports Management might be right for you.