By Misty Sneddon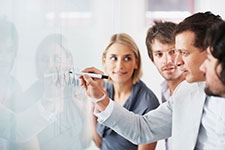 Those in the field of communication find it fascinating. People with successful careers in communication have the following characteristics:
Reports stories truthfully and accurately
Listens well
Speaks and writes clearly
Curious
Informs and instructs others
Efficient
Cares about others
Decisive
Reads body language well
Articulate
Majoring in communication provides a large and general knowledge base. This major is similar to marketing, advertising, public relations, and mass media programs. Because the topic is so broad, many career opportunities are available with a Bachelor's degree. Depending upon one's concentration in this field, classes would include english composition and literature, speech, public relations, theories of communication, linguistics, mass communications, electronic publishing, communication law, new media production, web design, video production, and cultural communication.

Careers available to those with a degree in communication are:
Advertising and Promotions Manager
Public Relations Director
Campaign Director
Mediator
Legislative Assistant
Broadcasting Station Manager
Debate Coach
Educational Tester
Religious Leader
Health Care Communication Executive
Event Planner
Television Producer
Community Affairs Liaison
Disc Jockey
Marketing Manager
Reporter
Non-profit Organization Administrator
Talk Show Host
Public Relations Manager
Author
Lobbyist
Film Editor
Copywriter
Stage Manager
Technical Writer
Activities Director
Recreation Supervisor
Research Analyst
Language Specialist
Employment Recruiter/Headhunter
Depending on what career you choose, salaries range from $14,000 to well over $100,000 a year. Careers with upper end salaries are healthcare communication executives, talk show hosts, film editors, and employment recruiters. Lower end salaries are usually due to part-time work and contract work. As a general rule, you can make a decent living with a communications degree.
Getting involved with high school classes in mass media as well as school newspaper and year-book staff will give you a taste of what to expect in the field of communication. You can also check with your school counselor for assistance in experiencing this field outside of the classroom environment.